Well last week I had the pleasure  modelling for the John farrar workshop John was holding in Blackpool.It was one of the funnest jobs I have ever done since I have been modelling.
I travelled up to Blackpool  from Liverpool with my makeup artist best pal Victoria MUA. Vic being Vic brought everything she owned in regards to makeup with her, including the kitchen sink, lol, she looked like she was packed to go to a three day music festival with all her baggage she had lol. After struggling off the train with our endless bags, we met john and Dougie ( photographer from FLASH BANG WALLOP WHO ORGNAISED WORKSHOP) outside train station and off we went to the hotel.
Dougie-as well as being a photographer owns and runs The Blackpool Hotel 'The Canasta' with his wife, everyone who did the workshop stayed over at the hotel, which was very cool indeed. Me and Victoria shared a double room together, which was fun in its self considering all the bags we brought, don't think there was enough room to swing a a cat, not that we would ever do that, cats are cool :).
The first night was getting to meet and greet everyone and talking to john farrar, which was such a pleasure and a very funny experience indeed, John is probably one of the funniest people I have ever met, I enjoyed his company indeed and if john gets fed up with the photography lark I think a career as a standup in the comedy store would be perfect.  It was lovely just chilling with everyone the night before at the hotel bar, we ordered pizza and ate, drank and laught, great bonding before the shoot the next day.
The morning of the first workshop was cool, I woke at 6am, got myself looking presentable and we headed down stairs for breakfast, just the makeup artist and models were up early and first to studio as we needed to be ready by the time John and the other photographers got there.
We had a great start off to the workshop, Victoria mua made a beautiful hat with lots of Blackpool influences on it, she did such a good job, everyone was impressed by her creation, John liked it so much he asked Vic if he could keep it at his studio in Brighton, and she kindly said yes, for the price of John to take a self portrait with the hat on lol which he agreed and I can't wait to this image lol.
 All the looks that the makeup artist Victoria Mua and Lucie MUA created were fantastic and something different for me, as these looks were very much out there and wacky, but I loved it so much. Working with John Farrar is such a great experience, as John knows exactly what he wants and as a model your job becomes very easy when the photographer knows what he wants. John is very funny in his direction sometimes, making me laugh so much I can't keep it in and it is hard to keep a straight face for example: john said to me when wanting to get a really arrogant look, 'look at me as if I am dog shit, your the queen of Russia and you just trod on me', ha ha after giggling a lot lol, I got this look in my head and it really worked. Sometimes its good just to let yourself go and think your different people to act out the different looks you want to portray, John was great at helping the models  achieve this.
Overall the days I spent on the workshop were great, challenging, informative and so much fun, I enjoyed meeting all the photographers and getting to work with John Farrar was a pleasure as he is one cool guy indeed. The day I came home me and Victoria Mua quickly went to the shops before we caught the train, to get the our family some Blackpool treats, including, silly glasses, fudge, sugar dummies and of course some Blackpool rock.
I want to thank Dougie and his wife Amanda for putting us up while in Blackpool and  for looking after us all, Thank you to John Farrar for selecting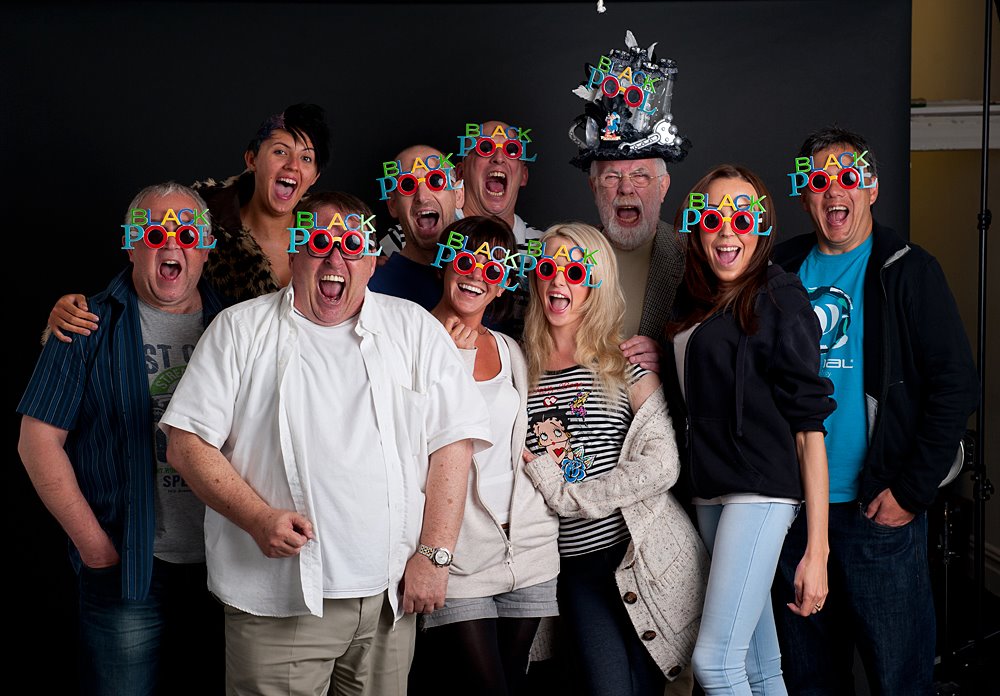 me to do this workshop and also to the makup artists and the other two models Bryony and Rebekah Flower and all the photographers who made the days so cool

x x x
The image above me in blue is taken by Glo Mason http://www.inaglo-photography.co.uk/
Image of the group shot is taken by Dougie from Flash Bang Wallop studio's blackpool. http://www.blackpoolphotostudio.com/
And the hotel we stayed in is : http://www.canastahotel.com/
check out these sites x x x