Monday was an excellent day
with
 Photographer Adrian Crook,
 Stylist Ruby Henderson
 and
Makeup Artist Jemma Stokes
The team had been organising this shoot since February,when Adrian first ask myself to test with him on a fashion shoot.
When Adrian first ask me he told me there would be some nudity involved (topless) at the time I had not done any topless or nude work so I was a little nervous but it was something I really wanted to do myself. The reason I wanted to start doing nude work in my modelling was because I felt it would expand my portfolio and push myself to get better as a fashion model. I think to be brave and confident with one's body is very important in this industry as a model and I am extremely comfortable now doing nude work and my favorite nude modelling is fashion nude as I feel it is the most challenging and for me a lot more interesting.
The concept for the shoot was to created an editorial look on an industrial looking Location.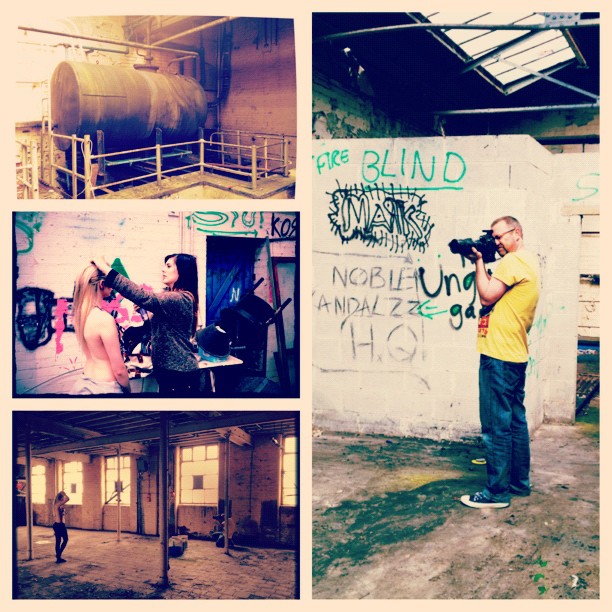 The style of the outfits was created by Ruby Henderson who is a Lancashire based Freelance wardorbe Stylist, specialising in Fashion and Creative styling. Ruby made A beautiful necklace out of Metal wires, melted bin-bags, chains, watches and jewelry. It was truly stunning and it was placed and sat on my chest, almost looking like a top, even though it was a necklace.
The make up was created by Jemma Stokes from Preston who gave me a heavy smokey eye and nude lips and flawless foundation that complimented the styling greatly and made the overall look dramatic and strong.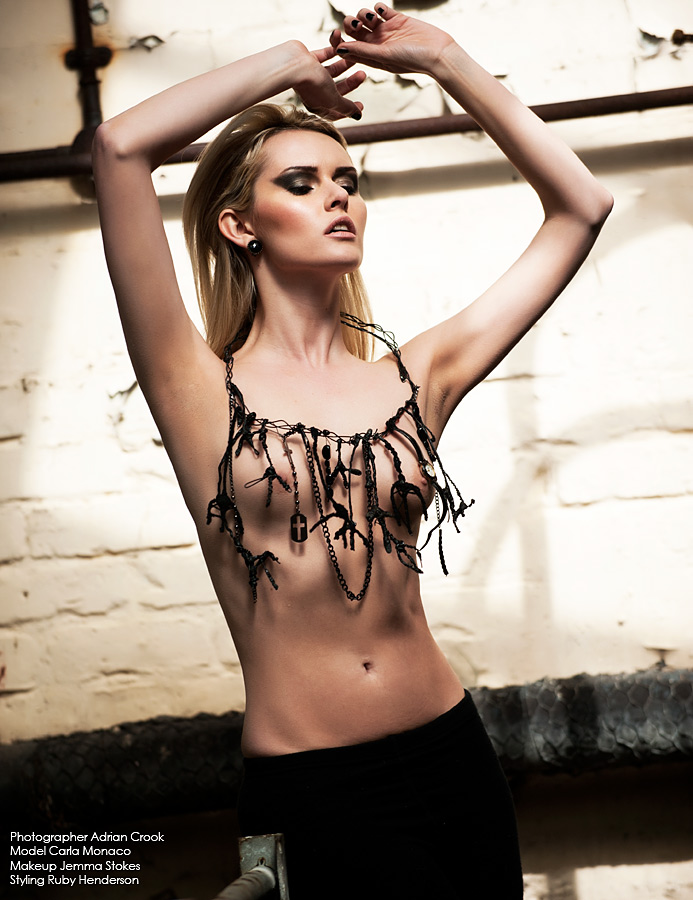 The location was in a derelict building in Preston which was just fantastic, there was so many places we could of shot and we were spoilt for choice really. Adrian spotted a place for me to stand first of all which to our luck had a sunspot shining down at the time. I quickly got up there and we shot only a few frames and we got the shot we wanted in a matter of minutes. This was just complete luck and timing really as the sun came just as we wanted it to and is shown through some breaking glass and gave us an amazing light to work with.
The next look was a white corset that Ruby made herself and styled, on one side it was cut below the breast, so I had my right breast on show, which gave the look a more edgy and high fashion feel, the detail on the corset was suburb and I truly loved wearing this piece. Jemma changed the style of the eye make up and gave me a 'Mono-brow' which actually worked so well as it made the look really different and futuristic, which was so cool and again different for myself.
I had so much fun on this shoot, It is so cool to work with so many talented people who get the job done but also have a giggle too

I have been so lucky this past year, as I have worked with so many lovely and talented people, I truly am grateful as I have learnt so many wonderful things from each of them  


…
'The Dream Team' were just fab on Monday and I will look forward to working with them all again soon, if they will have me that is lol x x x
Lots of Love
Carla x x x
Please check out Adrian's website www.adriancrook.co.uk for the images on his location