Hey everyone,
Okay so some of you may know that last week I was unwell and had to get an operation at Preston hospital.
Right now I am completely fine and over everything, which is amazing considering last week I could hardly walk lol.
I am going to let  you all know what the problem was, I am not embarrassed at all and I think more women should talk about this as I hear from doctor's it is quite common and some women are too embarrassed to go to the doctor's and they suffer more for it, which is really bad as the pain is awful.
I had what is called a Bartholin's Cyst which is caused by a blocked gland which causes a cyst to develop and then it can becomes infected and very painful.
 If you go to the doctor's at the beginning of the problem then you have a chance of the cyst going down on it's own and killing the infection with the medication.
If you leave it and it gets bigger and more infected then you are more likely to have surgery like I had to get it removed.
 The development of the bartholin's cyst is still unknown and sexually transmitted infection or a bacterial infection is not the cause.
The cyst are common in women of child-baring age and if a cyst develops in a women over 40 years of age then a doctor may administer a biopsy, just to make sure cancer is not present , which is rare.
Lots of women are also scared to go the doctor's too and suffer in the worse pain, don't be embarrassed, just get checked out.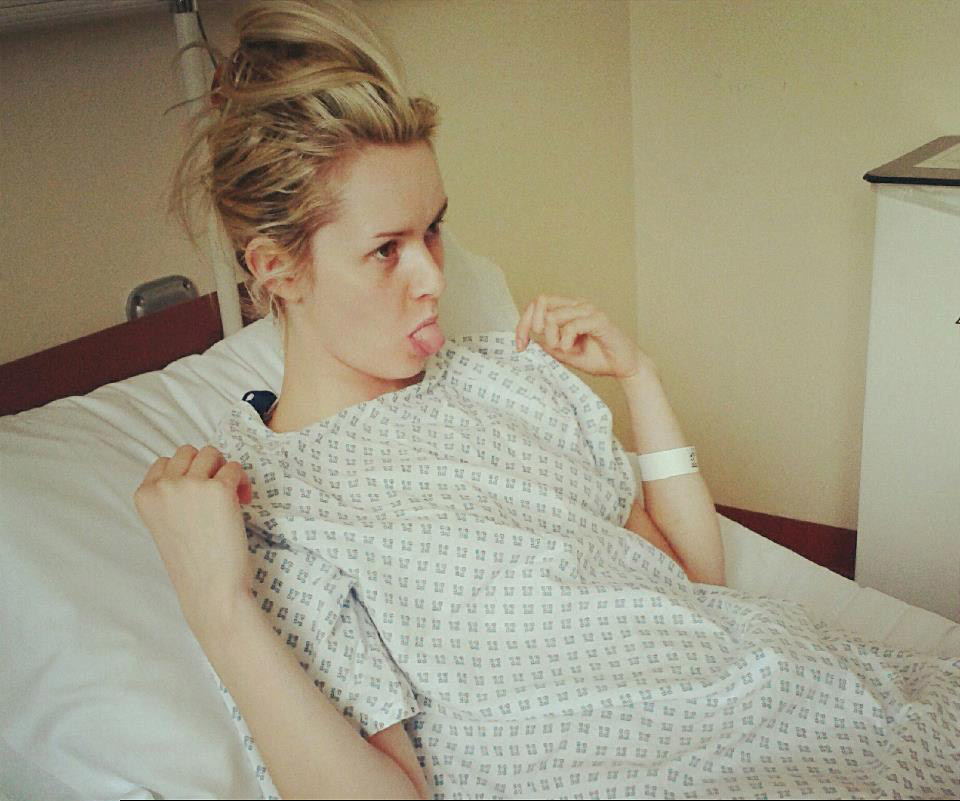 Taken by Adrian on his phone, I was less than impressed at the time, But now I can laugh about it lol haha x.
There were sign's of the condition last sunday, I didn't realise it was a cyst at all,there was no pain and it was very small, I had some discomfort but nothing major.
I still managed to come up to present to adrian's studio, carrying a huge case full of clothes, as i had work booked for the Monday, so I was feeling good in myself.
On the Monday morning I was feeling a little tender but still managed to get a shower and do my makeup, but by mid-day, I could hardly walk at all.
The cyst had got bigger and the pain was so bad, I was struggling to get up and was really scared and worried as I didn't know what it was wrong with me.
Adrian told me he was taking me to A&E, I didn't want to go at first as I was scared and embarrassed but he made me lol.
We went by taxi to Preston A&E and waited about one hour before getting assessed, then they sent me to the primary care part to get seen by one of the doctor's. Once I was seen by the doctor and examined, it was clear the problem was a bartholin's cyst and the doctor told me they are hard to treat unless you catch them early on.
He told me that it was likely I would have to get general anesthetic for it to be removed.
The doctor sent me away with some medication and painkillers, and I was to return on the Wednesday to see if I needed the operation.
By Wednesday I was in the worst pain I have ever been in, I could not walk and I really wouldn't wish the pain on my worse enemy.
Wednesday the doctor's decided I needed surgery straight away, so i had to put a gown on and some lovely compression socks lol, and head down to theater.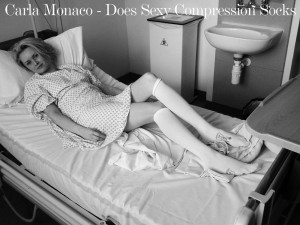 The operation went well and It was quick, when I came around I was in a little pain but feeling much better as the cyst was gone and it was all over, thank the lord.
Adrian was with me all the way and he really looked after me, I am so grateful for him being with me and it made the whole experience easier to go through when you have someone with you that looks after you and holds your hand

.
On a funny note, the doctor's informed me I would need to get some pads or sanitary towels for after the operation.
So while I was recovering in the hospital bed after the operation, Adrian Crook and Ian Austen, went to sainsburys to get me what I needed.
 They told me they had so much fun down the lady isle of tampon's and pads,  Just the image of them two trying to choose a pack of pads was the funniest thing ever- and yes guys there are so many too choose from.
I then spent the rest of the week recovering on the sofa, Adrian and Alf (Adrian's gorgeous dog) looked after me and where at my beck and call, lucky me.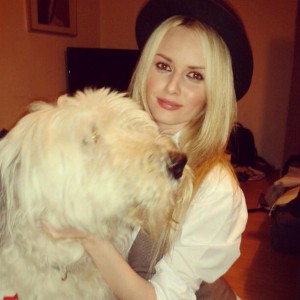 Me and Alf last night before the Kate Moss night at arc studios, Alf was my Pete Doherty lol haha x x.
I want to say thank you to all the nurses and doctor's at Sharoe green unit who looked after me, they were so brilliant, I know we all moan about the NHS at times, but when you need them they are there for you., thank you.
Thank you to all my friends who helped me out and asked about me, very kind of you all.
Thank you to Adrian and Alf <3 <3 <3 x x x
Back to fit health now, working again next week and have a new video coming up, I hope you enjoy.
And ladies check yourself out and do not be scared to go the doctor's, they are there to help you, don't suffer in pain.
Thank you for all your support
 love
Carla xxx
If you have any health concearns or want advice at all, contact NHS Direct, there website is http://www.nhsdirect.nhs.uk/ x x x