Hello everyone, I have had a great week and this weekend I have done some great new work, I can't wait for you to see.
Saturday I shot at ARC studio's with Adrian Crook, again lol, we did a glamour set and a more sensual sexy set.  Me and Adrian went out and shopped for the clothes and accessories to style the shoot. I think accessories are so important on shoots and I am learning more about styling with every shoot and creative person I meet.  I think shops like Primark are just great for shoots, you have so much variety and cost is inexpensive too, so its great for accessories such as, sunglasses, necklaces, rings, scarves etc and Primark is where we went lol.
The style of glamour we wanted to created was a more front/attitude style, which will involve more styling than a more sensual/sexy shoot in my opinion. Long socks, baseball cap, funky jewellery really makes the look. It gives it a more fashion edge which helps the overall look mean more and gives me as a model more to work with.
The next aspect is to work on the make-up look, when doing my own make-up I usually do it simple with big glossy lips, as most people I have worked with will know I love Brigitte Bardot and I love the effortlessness of her look. She made her eyes and lips stand out and kept everything else simple, with tousled hair, I still love this look but now I love to try new things with  different make-up, it makes it more fun and it is also important to be versatile as a working model.
 Yesterday I did my own make-up for the glamour shoot, I kept the base simple and used Revlon colorstay foundation in ivory, this is a great foundation for me and it looks natural but gives good coverage too. I used MUA  from superdrug eyeshadow palette to created my heavy smokey eyes which I also over eye-lined too. I don't always use eyeliner but it gives me a very dramatic look and the more I practice, the better it's getting, hopefully lol. I made my lips a deep pink and very glossy which some blush on cheeks. It took me about 20minutes to do the make-up and then on to shoot.
The shoot was great and flowed very well, Its great to sometimes let go of yourself and embrace being a woman and your own sexuality, it gives me confidence within myself and my own body. I love shooting when the music is playing too, you can just get into the movements of the tunes and go with it, and hopefully get the shots in there too

.
The outcome of the shoot were some really cool images that are again different for my portfolio and expresses how I am changing as a model and growing as one too. Adrian is always brilliant to work with because he tells you the truth, if he doesn't like a pose he will say and then push you to get better which I am completely grateful for as I always want to improve and learn.
Then today I shot a bridal shoot with Rob Georgeson and Nick English at Astley Hall in Chorely. Again complety different from the shoot with Adrian, I wasn't naked and had a dress on, shock horror ha ha lol. It was a perfect day to shoot, the sun was beaming and well it was just lovely, Astley Hall is very beautiful and great for location and Vintage shoots-perfect for bridal. It was my first bridal shoot, so I was very excited indeed, which is probably a little sad lol, but its always fun to play the bride. After the shoot me Adrian and Ruby Henderson went down the pub to sit outside and have a beer, why not on a lovely day like this-Heaven :).
Also I have an up and coming slot day at ARC studio's on the saturday 11th August starting from 10pm, first 4 hours are now sold, so get intouch asap as slots are going quick. I am modelling Fashion/glamour and Art Nude, £60 a slot, contact me or Adrian crook to book.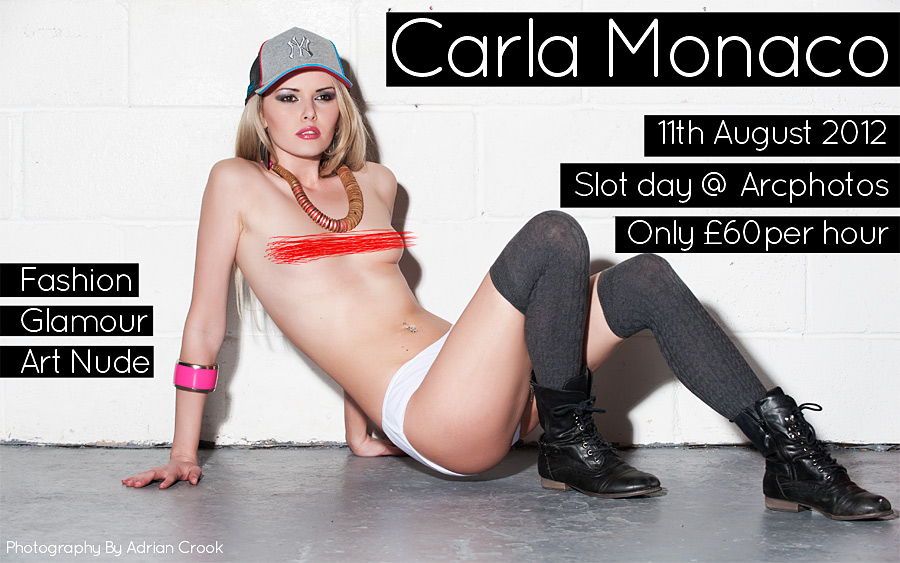 Enjoy the rest of the Sunshine everyone, I am going back out soon to see it 


Love
Carla x x x