I finally got the chance to go back down south last week and do my south west tour, It was just brilliant from start to finish, met some really lovely people and I will definitely be going back down again :).
Wednesday 28th November 2012.
I was kindly being put up at Stefano Brunesci House near Bath in Somerset, a photographer who I shot with in the summer.
 I travelled up in the late afternoon on the Wednesday a day before my booking started as I was booked early on the Thursday morning and Stefano said I could come up the night before which was cool, saved me getting up mega early on the Thursday morning, I am not really a morning person lol.
The journey down went perfectly and I was rather impressed by the T.V screens on the Bristol train,
dead posh down south, don't get that up here on the northern line lol.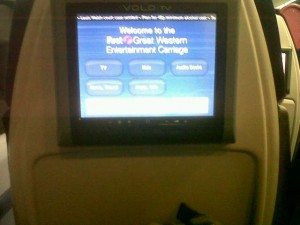 Stefano picked me up at the station and drove us back to the house and we had some tasty Thai Curry and then it was bed for me as I was well and truly tired.
Thursday 29th November 2012
Thursday I shot with the lovely Chris Lloyd from Swindon. Chris kindly came and picked me up from Stefano's house and the he drove us too Banbury to shoot at Eye for an Image studio.
The drive was quite long but we had a good chat and I thought it was kind for Chris to drive me all the way, as it saved me getting the train up.
We shot for 4 hours at the studio and we did a range of looks and styles from fashion, art nude, lingerie. The shoot was very enjoyable.
After the drive back from shoot to Stefano's house, I was really tired, sometimes I think the travelling can tire you out more. So to say the least it was food and then bed for me.
Image taken By Chris Lloyd.
Friday 30th November 2012
Friday I shot the whole day with Stefano, The last time we shot was so much fun and the images we did were such a success. I felt we both worked really well together and produced some quality work that we were both proud of. This time we wanted to do something different and not repeat what we have done on the last shoot.
The first look was something we called Kate moss in Hollywood lol, which was myself with Hollywood style curls and make-up but with a modern edgy attitude croosed with sexy high energy.
We put some cool punky music on by The Semi Precious Weapons-really cool band from New York and there front man Justin Tranter is very colourful and cool indeed, check them out.
The semi Precious Weapons.
I think it is important to just let yourself go and get into character when shooting, you have to feel what you are doing, as it makes for the best expressions, sometimes it works,sometimes it doesn't and you get some really funny shots indeed but if it works you get the best images.
I have learnt from photographer's who shoot high fashion like Adrian and Stefano that you just have to let yourself go, try different faces, sometimes it may look silly but if it works, you will find something different, strong and totally cool.
Myself and Stefano also did a lot of strong looks with heavy eye make-up and slicked back hair, wet hair, fun with some strappy belts and also topples in the kitchen smoking a fag, as you do
  it just had to be done lol .
Great shooting with Stefano, he is a pro and his style is right up my street, watch out for more images coming soon

Images taken by Stefano Brunesci-Totally unretouched and not edited Sneak Peeks
Saturday 1st December 2013
Saturday was my studio day at Hengroves studio's in Bristol. The studio was brand new and I was holding the first model-studio day there which was really cool.
Stefano was kind enough to drive me all the way to Bristol getting me there before 9.00am, saving me getting up mega early and catching a train.
Martyn who runs the studio has done such a great job doing it up, really good studio.
Lucky for me and the studio day was sold out 9.am till 7pm, a long day but was well worth it.
The photographer's who bought slots were-
Kim Rajjie Mare Rowland -Bang  Tidy Photography

Steve Avatar Photography

Marcus Jake-Fine Art Photography

 Digitally Damaged Photography

Howard Evans-H at A1 C C
The whole day was so much fun, each photographer brought there own style and skill to each shoot, and they were all really nice and easy to work with, so it made my job even easier.
Here are a selection of some of the images from the day.
Sunday 2nd December.
Sunday I shot with the lovely Paul Claridge in Bristol.
When travelling back down to Bristol, I had to get two coaches as the trains were off as it was rails were getting work done, so a coach it was.
The scenery was very pretty so it made the journey a lot better and the sun was shining down too so it very pleasant.
I met Paul at Bristol Parkways and he then drove us too the house we were shooting in.
It was a really cool and modern style house built in the 70's and just great for shooting in.
Paul was a lot of fun to shoot with, really nice, very creative and the whole shoot was fun.
We  did some shots with a lamp shade, nudes, tights, hats and a cigar which was new for me but I actually liked quite pretending to smoke haha you have to admit smoking in images is cool

After the shoot I was back on the train heading home.
It took about 3 hours on the trains back, I had such an amazing time in the south west.
Everyone I worked with was nothing but lovely and kind and I thank you all for making me have another brilliant experience in this modelling world.
Even though I really enjoyed myself I couldn't wait to get home to Mr Crookie and Alf I missed them so much x x x
Big thanks to Stefano for putting me up in his house and looking after me and everyone I worked with and met, I shall see you all again soon.
Lots of Love
Carla x x x