I have been working with John Tuckey for a couple of years now and we have had some great shoots, each one being different from the last. John's classic style always remains in his work and his love for vintage and Hollywood styles clearly shows.
Working with John is always about getting into character, creating the correct style and getting the lighting perfect for that authentic look.
I am now delighted to announce that I will be modelling for John on his 101 workshop 4th April in the beautiful location of Earlswood, Warwickshire.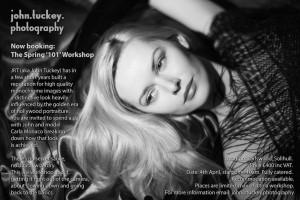 Limited to 4 delegates, fully catered and accommodation available.
Full details on the website-workshop 
If you are a photographer who is interested in learning the techniques of Hollywood/Noir lighting/vintage styles and getting your technique right in camera, then this may be the workshop for you.
Workshop review from La Vida Leica LAVIDALECIA
If this style interest you then get in touch with myself or John to book your place.
Here are some of my favourites from Jrt Vintage… hope you enjoy them

Thanks for looking
Carla