ASSISTED FASHION LOCATION SHOOTS.
SWINDON/NORTH WILTSHIRE LOCATIONS.
I offer Assisted photoshoots with my husband Photographer Adrian Crook as you're assistant.
These shoots are not tuition but simply Adrian acting as your assistant on a 1-1 location shoot with me.
This includes
Driving you to the locations/picking and dropping off from station-if required Carrying/helping with you're equipment.
Holding Reflector.
Bringing lighting/equipment if needed for you to use. (Nikon/Fuji)
Acting as a spotter when/if shooting nudes (only in summer!)
Provide light refreshments Tea/Coffee/Snacks
Help/offer advise if needed
Shooting on location is great but sometimes you could need that extra pair of hands to help without needing full on tuition, just that extra help with getting to locations/ someone to carry equipment/hold the reflector/lights and act as a lookout.
Also a gentle reassurance sometimes can be very helpful, location shooting can be nerve racking for some people and working with 2 experience people in the industry can put your mind at ease and build confidence in going forward in your creative journey.
We have done lots assisted shoots and they have been very successful and greatly appreciated from the photographers who have booked.
Our shoots are always relaxed and the main thing fun!
Locations will be around north Wiltshire- We can pick you up from Swindon station or meet you at Junction 16 Swindon and you can follow us to the locations.
*Rural nature reserve, woodlands, lake, Park, derelict road etc, we are always looking for new places for our shoots.*
A recent reference from photographer Steve Pearl
'I took a chance on the weather behaving itself as we head into winter and booked a late autumn fashion shoot with Carla (and Adrian assisting), and I'm very glad that I did. The weather was about as good as can be expected this time of year and I had a fantastic shoot. Mr & Mrs Crook did another excellent job of arranging this "assisted location shoot" (this is the second one that I've done with them) and chose some wonderful locations in the countryside near Swindon again. Even if there weren't quite as many leaves left on the trees as a month ago, there were still plenty on the ground, providing an abundance of autumn colours.It goes without saying that Carla had all the looks to match the beautiful locations (numerous autumn/winter coats and more self-knitted hats, gloves and scarves than I could keep track of) and posed perfectly throughout as she always does. And Adrian did a sterling job of not only lugging my lighting gear around for me, but also holding up the flash in places that I could never have made it stand on its own, so even the trickiest of locations still had the benefit of the finishing touch that a flash can provide when the daylight isn't at its best.We were accompanied most of the way round our three locations by a riot of robins (is that the correct collective noun?!), one of which did its best to mug me for my mince pie (very kindly an unexpectedly provided, along with a flask of coffee, by my hosts — I guess that's one advantage to booking an autumn shoot so late Wink). All in all it was a lovely wander through the countryside in the company of equally lovely people. I've come home with another batch of great images, and can only look forward to doing it all again next year Smile Thanks again, guys Steve'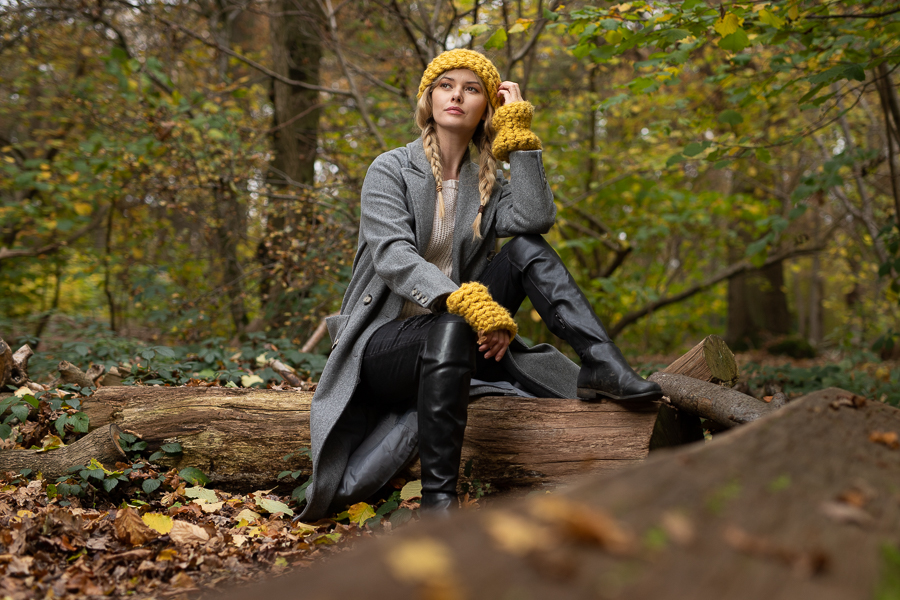 Price is £250 for 4hrs includes, driving, pick up (if needed), model, assistance, light refreshments, styling.
Deposit rquired.
10am-2pm/11am-3pm is usually a great time to shoot but can be flexible to suit you.
If the weather is looking bad we will reschedule you're shoot to another day.
If you would like to book a session please get Intouch with me carla@carlamonaco.co.uk
We have Dates in March/April/May
Best
Carla